Dutch Country Living Makes Gift to Bloomfield Public Library, Encourages Others to Use Facility
Libraries have a long history of serving local entrepreneurs and businesses. Still, some, like the Bloomfield Public Library, are taking their business services to a new level with the renovated conference rooms available for use. Dutch Country Living (DCL) understands the importance of offering attractive, functional, and community-based places and were grateful for the opportunity to utilize the resources offered by the library.
In 2020 and 2021, while Dutch Country Living's new office space was undergoing significant revitalization and remodeling at the historic Fenton Building, staff regularly scheduled meetings in the Library's available conference rooms and other meeting spaces. This was essential in providing beautiful working conditions until the company was able to move into their new office space, located at 202 N Madison (the building, which features mid-century architectural details within the Bloomfield Main Street district, has a long history for citizens of the Bloomfield and Davis County who remember it as the Fenton Medical Building).
As a thank you for the use of the state-of-the-art facility and meeting spaces, Dutch Country Living Founder Levi Good, Community Development Director Diana L. Upton-Hill, and Projects Grants & Program Administrator Mary Wells recently stopped by with a $2,000 donation, presented to Library Director Anne Tews. Be sure to stop by and check out all the great resources located at the Bloomfield Public Library, 107 N. Columbia Street.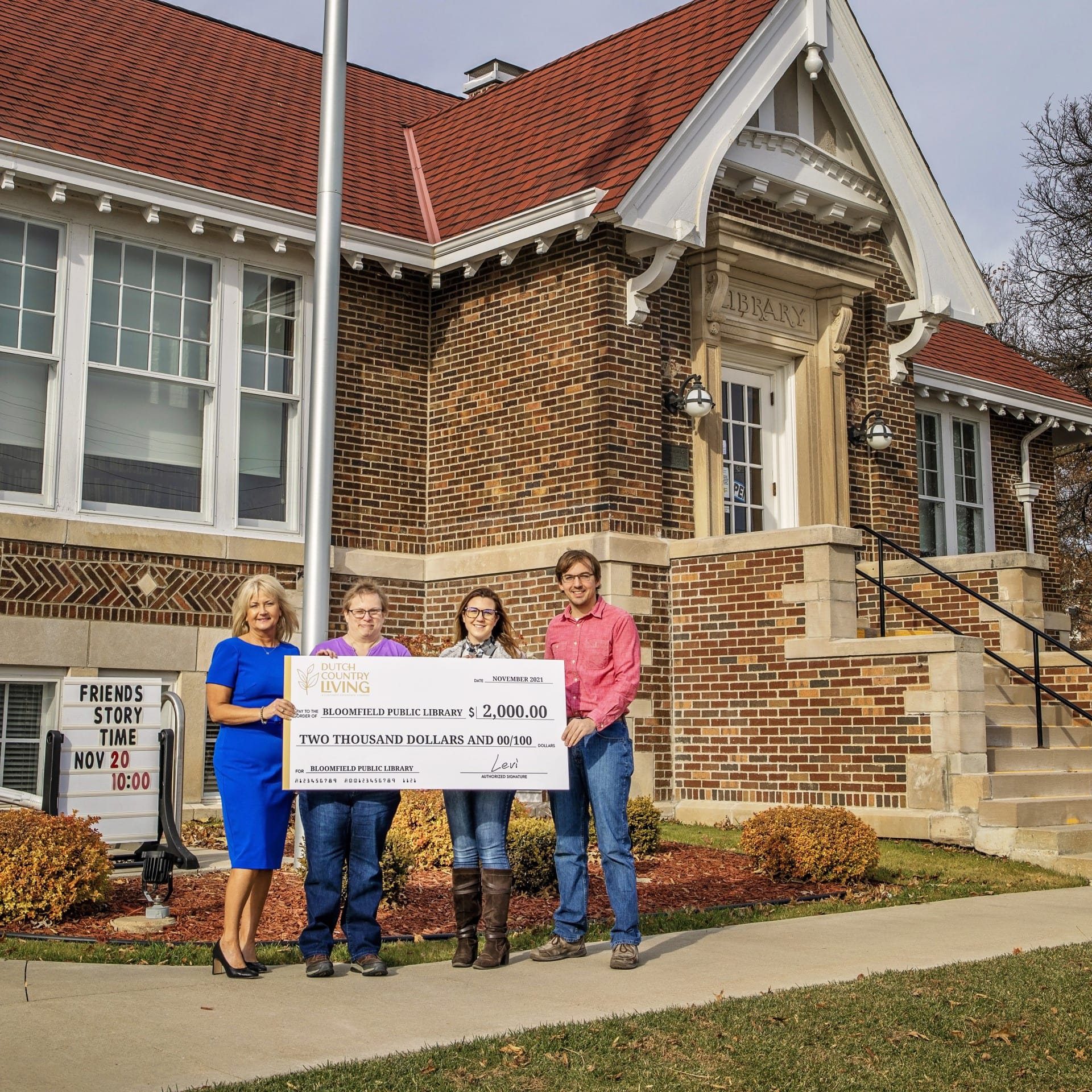 Dutch Country Living, a 'customer experience company' whose popular brands include Dutch Country General Stores and Amish Made Poly, has manufacturing, warehousing, media production, and retail operations in Iowa and Missouri. With more than 60 employees, the company has continued to gain recognition as one of the fastest-growing private companies in the Midwest region.